History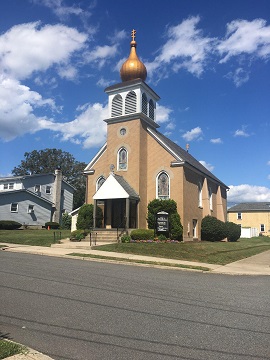 A Brief History of St. John the Baptist Orthodox Church


1916: First Divine Liturgy celebrated by Rev. Stephen Sipayda in a private home on East Central Avenue next to what was to become the rectory.
1917: Church structure completed and consecrated by Rt. Rev. Stephen, Bishop of Pittsburgh.
1923: Parish entered the Carpatho-Russian Diocese under the Omophorion of Archbishop Adam.
1942: The Parish came under the Omophorion of Metropolitan Theophilus.

The day-to-day administration of our Parish is the responsibility of our Parish Council which is comprised of the Rector, Warden, Assistant Warden, Treasurer, Secretary, and several other Lay Members of St. John's Church. The Parish Council also oversees St. John's Cemetery on Fifth Street, Alpha.

The 'a cappella' responses during worship services are under the supervision of our Rector and Choir Director. The Choir is comprised of Members of St. John's who share their God given talent freely. Attendance at choir practices is encouraged. All worship services are celebrated in the English language.

A time for fellowship, called the 'agape,' follows the Divine Liturgy each Sunday. The refreshments are provided by Families who volunteer on a rotating basis. The Church building is cleaned weekly, also by our Families on a rotating voluntary basis.

Our Rector is available 24 hours a day to assist us with our spiritual and other needs. Pastoral visits are made to our elderly and chronically ill Members on a regular basis.

Saint John's is comprised of Members who represent a diversity of cultures and ethnicity. It is a typical 'Orthodox Church in America' parish that welcomes persons from all backgrounds to "come and see."